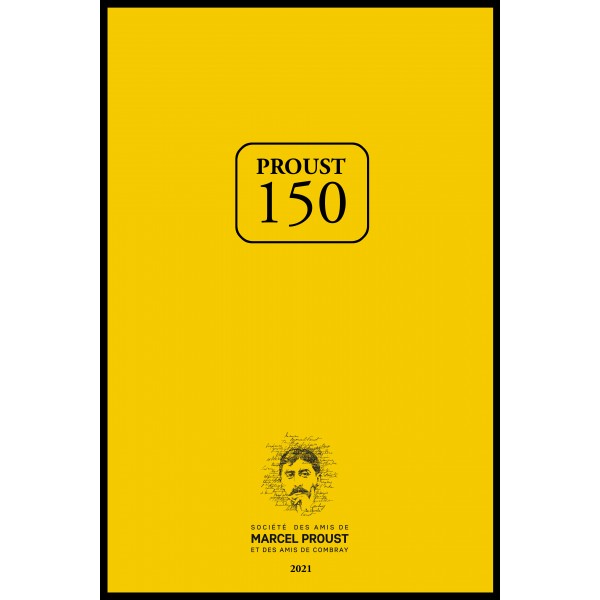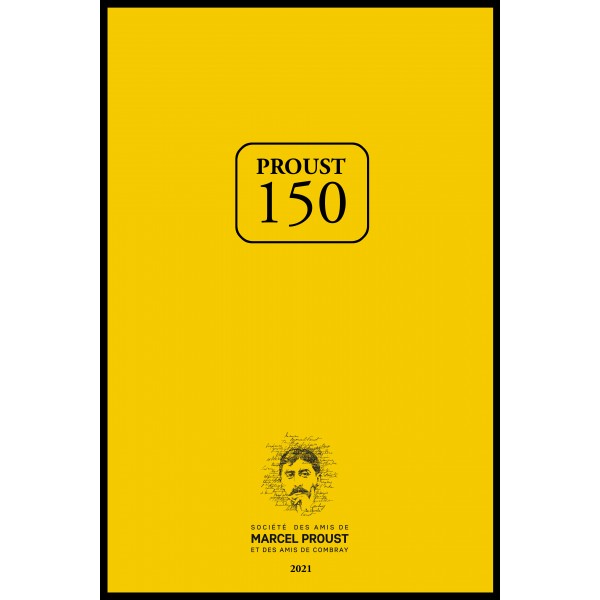 
 
Proust 150
Reference: LIV019
A reprint is currently under way. shipping should resume in December.
On the occasion of the 150th anniversary of the writer's birth, 150 members of the Société des amis de Marcel Proust have selected an excerpt from his work, explaining in a few lines the reasons for their choice. The resulting anthology provides a broad overview of what his readers appreciate most, including sensitivity, humor, philosophy of life, considerations on art, or reflections on memory. For those who are already familiar with À la recherche du temps perdu, this collection offers a vast cartography allowing them to situate their own reading in relation to those of other admirers; for others, it shows one hundred and fifty possible paths to penetrate the incomparable Proustian universe.

Foreword by Jérôme Bastianelli

Contributions de :
Abiteboul, Maurice
Albert-Jacouty, Brigitte
Antoine, Jean-Christophe
Aubouy, Véronique
Avenati, Mathilde
Balcerowiak, Stéphane
Baronnet-Frugès, Rodolphe
Bastianelli, Hélène
Bastianelli, Jérôme
Baumont, Isabelle
Baumont, Olivier
Beaufils, Oriane
Beauthéac, Nadine
Béjot, Matthieu
Belfort, Christian
Bellamy, Olivier
Bénézech, Alix
Bénézech, Vincent
Benjamin, Martine
Berthelot, Anne
Bertol, Olivia
Bezault-Lavergne, Mohic
Bizub, Edward
Blay, Philippe
Bloch-Dano, Évelyne
Boulay, Yannick
Boulon-Cluzel, Édouard
Brézet, Stanislas
Brimo, Nicolas
Brochier, Patricia
Bruncevic, Mersiha
Chauchat, Aymeric
Chiflet, Hervé
Clément, Jérôme
Cohu, Véronique
Colrat, Adolphe
Combret (de), François
Côme, Bernard
Constensoux, Karine
Courroye, Philippe
Crosman Wimmers, Inge
Crouzilles, Carl
Cuito, Amadeu
Damblant, Michel
Debieuvre, Martine
Degioanni, Jacques-Franck
Dély, Renaud
Desanges, Gérard
Dessaux, Guillaume
Dezon-Jones, Élyane
Doumet, Christian
Dubois, Jacques
Dupont-Mouchet, Philippe
Duzer, Virginie A.
Eells, Emily
Etherton, Mark
Fonmarty, Jeanne
Foucard, Oriane
Franch, Sheila
Frentz, Rémi
Fréry, Nicolas
Gamble, Cynthia
Gaudin, Catherine
Giacobbi, Paul
Giraudeau, Lauriane
Graulich, Henri
Graziano Leone, Angela
Grenier, Laurence
Guerrée, Anthony
Guignard, Gaëtan
Guipponi, Marie-France
Guz Brossard, Leyla
Haag-Lainé, Clément
Haby, Jean-Luc
Henriet, Jean-Paul
Heuet, Stéphane
Hillerin, Laure
Huon, Christophe
Ifri, Pascal
Jordan,Tristan
Kato, Yasué
Khonsari, Roman
Killian, Valentin
Kim, Young-Hae
Kohler, Ioanna
Kuzeawu, Koffi
La Rochefoucauld (de), Jean
Laget, Thierry
Le Gallen, Catherine
Léal (de), Alexandra
Lebel, Dominique
Leblanc, Cécile
Leclère, Patrick
Lejeune, Richard
Lemaire, François
Lemaitre, Pierre
Lenfant, Michel
Letertre, Jacques
Lipzyc, Frédéric
Loiseleur des Longchamps, Alix
Lundwall, Gaspard
Marcolongo, Andréa
Massouline, Élodie
Montjean, Hélène
Morel, Philippe
Morisse, Hugues
Morisseau, Arthur
Mourguet, Christian
Olivier, Gaëlle
Patrice, Laurence
Pavan, Catherine
Penesco, Anne
Perrier, Guillaume
Platz, Marianne
Pradère, Emmanuel
Prévost-Avenati, Gisèle
Pricolo, Vincenzo F.
Quaranta, Jean-Marc
Ragonneau, Nicolas
Rambaud, Laurent
Randow, Benjamin
Reynaud, Philippe
Rizoud, Christophe
Rocard, Loïc
Roussy, Michel
Saiz, Denis
Salomon, Jean-Jacques
Salzer-Falkenstörfer, Lore
Sauvard, Jocelyne
Seilles, Odile
Serça, Isabelle
Severis, Costas
Sibold, Rainer
Sochet-Corboliou, Martine
Soldin, Adeline
Springall, David
Swann, Marcelita
Thievend, Léopold
Thomas, Philippe
Thouillot, Pascal
Totel, Catherine
Totel, Michel
Trouillefou, Clopine
Trouvé, Elisabeth
Van Gucht, Diana
Vernet, Matthieu
Verstraten, Linda
Watson, Rowan
Wittezaële, Claude
Wu, Mengni

Afterword by Éric Unger
16 other products in the same category:
Author : Mireille Naturel
Editor : la Société des Amis de Marcel Proust
162 pages. Written in French.
The Société des amis de Marcel Proust et des amis de Combray is pleased to propose the 
Bulletin d'informations proustiennes